What About Mike?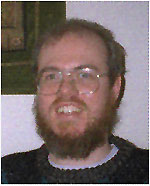 MICHAEL NUNAMAKER

A high honors Electrical engineering graduate of the University of Illinois at Champaign-Urbana, Nunamaker pursued thoroughbred horse racing as a hobby since 1979. From 1984 to the present time, Nunamaker has owned and operated a small computer software company. In March of 1994, his horse racing interests graduated from avocation to vocation when he published the critically acclaimed "Modern Impact Values."

Since that time, Nunamaker has produced thoroughbred racing material at a prodigious rate. His last work, "Favorites!" represents his thirteenth racing book in little more than 18 months. Amazingly, all of his books since "Modern Impact Values" have been very highly rated by the prestigious Phillips Racing Newsletter. An incredible seven of Nunamaker's books have been rated 9 1/2 by the PRN. To the best of our knowledge, no other racing author has earned more than a single 9 1/2 from the PRN making this accomplishment truly astounding.

Mike owns one of the most sophisticated home grown computer handicapping programs in the country that also uses artificial intelligence which continually seeks to upgrade his data and increase his win percentage.

If you are still curious, GOOGLE Michael Nunamaker handicapping !




---
NATIONAL TURF HOME | PRIVACY POLICY

Send comments about this site to Bob Selvin at selvin@nationalturf.com
Copyright© 1998-2001 National Turf. All rights reserved.